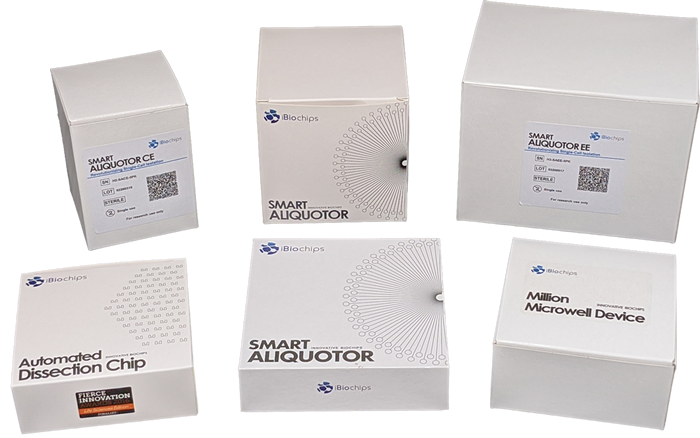 Single-Cell Cloning & Sequencing
Bacterial Endotoxin Testing Platform
Single-Cell Cloning & Sequencing
Successful single-cell isolation is a primary step for subsequent single-cell analysis, mainly including 1) single-cell cloning from single adherent cell, single suspension cell, or single CRISPR-edited cell, and 2) single-cell PCR & sequencing which highly requires a convenient and reliable method to rapidly isolate a viable and intact cell into a specific container such as a PCR tube.
The 1CellPlate and Smart Aliquotor series of products overcomes current single-cell isolation technical challenges in time-consuming, operational complexity, limited efficiency, deterioration of cell viability and integrity, and incompetence in the isolation of single cells into small-volume liquids to perform single-cell PCR & sequencing. The 1CellPlate and Smart Aliquotor series of products provides unprecedented simplicity and convenience in the single-cell isolation with high efficiency and high tolerance of cell size, shape, and numbers.

Rare Cell Isolation
There is accumulating evidence showing the existence of phenotypic and genotypic heterogeneity among various cell populations. Therefore, single-cell analysis, especially the efficient isolation of desired single rare cells from heterogeneous bulk populations for the downstream single-cell clonal & genetic analysis have become increasingly significant for investigations of clonal generation with/without genome editing, tumor evolution, embryonic development, and immunological intervention. The initial and crucial step to perform the above mentioned analysis is to selectively isolate intact single rare cells from heterogeneous background cells.
The 1CellPlate provides a quick and easy way to isolate single rare cells for subsequent single-cell clonal analysis and genetic analysis. One rare cell can be enriched ~3×104 times by using one 1CellPlate and ~1×109 times by using two 1CellPlate.
Automated Lifespan Assay
Advancing our understanding of the underlying molecular mechanisms of aging, as well as their contributions to age-associated diseases, will have a profound impact on public health. Studying the replicative aging phenomenon in the budding yeast Saccharomyces cerevisiae has led to significant findings on how aging is regulated by evolutionarily conserved enzymes and molecular pathways. However, the laborious and low-throughput methods of current yeast replicative lifespan assays limit their usefulness as a broad genetic screening platform for research on aging.
Automated Dissection Chip (AD-Chip) provides automated whole-lifespan tracking of over 10,000 single yeast cells for 20 different strains in 3 days with time-lapse microscopy. The AD-Chip enables high-resolution fluorescent imaging of single-cells during the entire aging process, allowing for investigation of gradual changes in molecular markers on the single-cell scale and high-throughput examination of the aging phenotype, including organelle morphology, gene expression, and protein localization to identify genetic or environmental factors that regulate lifespan.

Bacterial Endotoxin Testing Platform
Endotoxin, originating from the cell membrane of gram-negative bacteria, causes strong immune response resulting symptoms such as fever, nausea and septic shock. It is required by a regulation to test the level of endotoxin in medical products, including implants, human and animal parenteral drugs and vaccine, medical equipment, and all products labeled as non-pyrogenic.
iBiochips endotoxin testing platform offers more precise kinetic endotoxin assay with reduced reagent consumption. Innovative microfluidic flow control integrated in standard well plate eliminate source of experimental and environmental errors, while it is compatible with existing endotoxin test system.